UNI Softball Camps
Coaching Staff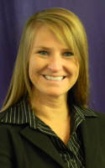 Julie Gerdes
Pitching Coach/Recruiting Coordinator
Former University of Northern Iowa standout pitcher Julie Gerdes enters her fifth season with the Panthers. Gerdes came to the Panther staff after serving as the pitching coach at Wartburg College from 2005-07 and also assisting head coach Ryan Jacobs at Cedar Falls High School from 2004-07. As an assistant coach at Wartburg, Gerdes helped lead the Knights to a combined 102-23 record and two Iowa Intercollegiate Athletic Conference tournament championships, including a 2006 IIAC regular season title. Not only did Gerdes assist with pitching at Wartburg from 2005-2007; she also helped Jacobs with pitching duties at Cedar Falls High School. Gerdes helped lead the Tigers to a 32-10 mark in 2007 and was ranked as high as fifth in Iowa's Class 4A. A 2000 graduate of Burlington High School, Gerdes began her collegiate softball career at Kirkwood Community College where she earned NJCAA Region XI first team honors from the National Fastpitch Coaches Association and also National Coaches Association-Louisville Slugger All-American first team. Gerdes pitching record at Kirkwood was an impressive 41-10 over two seasons, helping Kirkwood to an 84-29 team record. Following her career at Kirkwood; Gerdes joined the Panther pitching staff and tallied a 12-6 pitching record in her first season. She threw over 100 innings in each of her years as a Panther, and posted 17 complete games, including 12 in her junior season. Gerdes graduated from UNI in 2005 with a degree in Mathematics and taught at Cedar Falls High School from 2005-2007.
---

Matt Egger
Assistant Coach
Hometown: Webster City, Iowa
Alma Mater: Cornell College
Graduating Year: 2000
Major: Sociology/Physical Education
Experience: 1st Year

Matt Egger has been hired as an assistant softball coach at the University of Northern Iowa as announced by head softball coach Ryan Jacobs on Oct. 10, 2012.

"I am really excited to welcome Matt Egger to the Panther softball family," Jacobs said. "He bring a ton of energy and an endless work ethic. Matt has proven himself as a great leader, a strong recruiter and a positive role model for student-athletes. I am looking forward to bringing his knowledge, experience and positive energy to this UNI staff."

Egger is eager to join the UNI softball coaching staff.

"I personally believe that within the past five years UNI softball has transformed itself into the premier softball program in the state of Iowa," Egger said. "I look forward to representing the University of Northern Iowa and what Coach Jacobs and his staff has built at all times - on and off the field."

Egger served as the head softball coach at Ellsworth Community College for the past three seasons. In those three seasons, Eggers had 19 players earn all-region honors and 17 players earn academic all-region status. He coached two NFCA All-Americans, one Academic All-American and an NJCAA All-American.

Egger began his coaching career in baseball. He served as a prep baseball coach in Webster City, Cedar Falls, Clear Lake and Rockwell-Swaledale. Egger also coached baseball at the collegiate level at North Iowa Area Community College.

Egger graduated from Webster City High School in 1996 as a three-sport all-state athlete in football, wrestling and baseball. Egger graduated from Cornell College in 2000 with a double major in sociology and physical education. He competed in football, wrestling and baseball at Cornell College.

He has three children (Chelsea, Reis and Alek).

---

Tina Vande Hoef
Volunteer Assistant Coach
Hometown: Ocheyedan, Iowa
Tina Vande Hoef is in her third season as a volunteer assistant coach for the UNI Panthers' softball squad. She is in charge of team-bonding events.

Vande Hoef began her collegiate playing career at Northwestern College in Orange City, Iowa. She transferred to Wartburg College where she completed her collegiate caeer.

In 2007 at Northwestern, Vande Hoef batted .360 and was a first-team all-GPAC selection. Vande Hoef was second-team all-conference and second-team all-region pick at Wartburg in 2010 after starting all 34 games at third base. As a senior, she batted .383 for the Knights. She was a first-team all-IIAC honoree in 2009 after hitting .374 as an outfielder.

Vande Hoef served as an assistant softball coach at Sibley-Ocheyedan High School in 2007 and 2008.

She is graduated from Wartburg in December 2010 with a degree in physical education and a minor in heath with a coaching endorsement.

She is also currently teaching physical education at Janesville CSD.

She and her husband, Brett, reside in Waverly.